Kreatelier located on Hope Street (East Side) in Providence brings out the creative side in all of us and offers a wide selection of craft classes for kids and adults.
This innovative textile product design studio, owned by two fabulous women Line and Pernilla, includes a shop that sells their own originally designed products, handmade works by other artists, and a select group of other well-designed items including; bike baskets, totes, toys and organizers. They also provide home interior services and there is a beautiful space for the classes and birthday parties.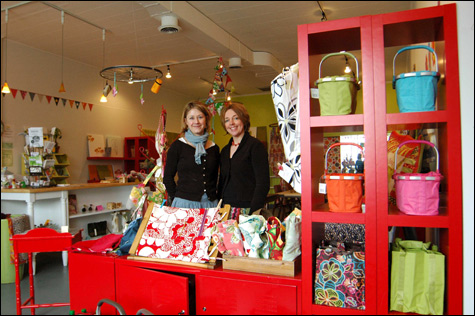 Line and Pernilla have made Kreatelier a wonderful home on Hope Street, sharing their passion and eye for art, design, craft and their awareness for the environment with the community. Less than a year after opening, Kreatelier won two Best of Rhode Island awards this summer from the editors of RI Monthly; Best Place to get crafty and Best Textile Designs.
I am honored to teach a few of the craftshops for kids (see my classes below) here on Saturday mornings–a nice break from the computer. Read the Kreatelier Fall Craft Brochure to see their full list of classes for kids and adults.
BUTTON NECKLACES
Sat., October 3, 10:30 — 11:30am – $20
Learn how to make a unique necklace made out of beautiful buttons. The young artists may bring their own special buttons or use our crazy selection to make a one-of-a-kind necklace. They will leave the shop as cute as a button.
COLORFUL FIESTA FLAGS
Sat., November 7, 10:30 — 11:30am – $20
In the tradition of Mexican papel picado, the young artists create and assemble vibrant paper banners using simple cutting skills. These colorful paper banners will spice up any room or party!
DECORATED GIFT BAGS AND BOXES
Sat., December 5, 10:00 — 11:00am – $20
Kids create their own special gift bag or box with buttons, fabrics, paper and stamping. In the spirit of reducingwaste, these gift bags or boxes can be used and re-used to hold gifts and treasures.
MAKE AN ART CARD
Sat., December 5, 11:30 — 12:30am – $20
Using recycled materials including buttons, ribbons, papers and fabrics, children create one or more unique card(s) to give to their teacher or special someone.
Details:
class location: Kreatelier, 804 Hope Street, Providence, RI
Download Kreatelier Fall Craft Brochure
To register (pre-registration required): email bonjour@kreatelier.com or phone 401-432-7995