The City of Providence's Summer Food Service Program for Children is now operating in neighborhood centers and parks throughout the city.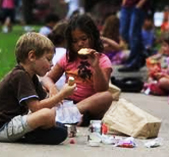 The federal program, which is administered by the Department of Parks & Recreation in conjunction with the Rhode Island Department of Education, serves free breakfast and lunch to children at 31 area recreation centers, pools, water parks and community organizations.
The program allows for meals to be eaten at the site only. Approximately 5,000 meals will be provided daily to Providence children 18 years of age or younger, Monday through Friday, July 2 through August 17 at the following locations:
Davey Lopes Pool
227 Dudley Street
11:45AM – 1:45PM
Fox Point Waterpark
Wickenden Street
11:45AM – 1:45PM
George J. West Waterpark
Chalkstone/Mount Pleasant Avenue
10:45AM – 12:45PM
Joslin Recreation Center Pool
17 Hyat Street
11:00AM – 1:00PM
Harriet and Sayles Waterpark
199 Oxford Street
11:45AM – 1:45PM
Neutaconkanut Recreation Center Pool
675 Plainfield Street
11:45AM – 1:45PM
Recreation Department – Main Building water park
11 West Drive
11:15AM – 1:15PM
Pleasant Street Water Park
Pleasant Street
11:30 – 1:30PM
Sackett Street Water Park
159 Sackett Street
10:45AM – 12:45PM
Selim-Rogers Recreation Center Pool
60 Camden Avenue
10:45AM – 12:45PM
Southside Water Park
674 Prairie Avenue
11:00AM – 1:00PM
West End Recreation Center Bucklin Pool
109 Bucklin Street
11:45AM – 1:30PM
Zuccolo Recreation Center Pool
11 Gesler Street
12:15 – 1:45PM
Lockwood Plaza
50 Prairie Avenue
11:30AM – 1:30PM
Billy Taylor Playground
Camp Street
11:45AM – 1:45PM
Candace Street Playground
Candace & Orms Street
10:30AM – 12:30PM
Dexter Training Ground
73 Dexter Street
10:30AM – 12:30PM
Fargnoli Park
Across 950 Smith Street
11:00AM – 1:00PM
Mattie Smith Playground
Glenham & Taylor Street
11:15AM – 1:15PM
O'Brien Park
Corner of Regent Street & River Avenue
10:30AM – 12:30PM
Pearl Street Playground
Pearl & Providence Streets
11:15AM – 1:15PM
Riverside Park
50 Aleppo Street
11:15AM – 1:15PM
Wiggins Village
207 Cranston Street
11:00AM – 1:00PM
Donigian Park
247 Valley Street
11:30AM – 1:30PM
Wallace Street Park
Wallace & Cumerford Streets
12:00-1:30PM
Hopkins Square Park
St. Ann's Church
12:00-1:30
Lippitt Park
1001 Hope Street
11:30AM-1:30PM
Corliss Park
30 Corina Street
12:15-1:30PM
Jennifer Rivera
40 Niagara Street
10:30AM-12:30PM
Chad Brown
Chad Brown Street
11:45AM-1:45PM
For more information on the program, contact John Rotatori, Director of the Summer Food Services Program at 785-9450 ext 231.
Category: community news, food + recipes, free / cheap
Anisa Raoof is the publisher of Kidoinfo.com. She combines being a mom with her experience as an artist, designer, psych researcher and former co-director of the Providence Craft Show to create the go-to spot for families in Rhode Island and beyond. She loves using social media to connect parents with family-related businesses and services and promoting ways for parents to engage offline with their kids. Anisa believes in the power of working together and loves to find ways to collaborate with others. An online enthusiast, still likes to unplug often by reading books and magazines, drawing, learning to knit, making pop-up books with her two sons and listening to records with her husband.