We receive a fair amount of CD's or links to family band wesbsites. Some are a bit heavy on the "kid" part and some are more about good jammin' tunes that happen to have lyrics about what kid's think about–like food and animals, more than adult themes–like love and heartbreak. Here is a list of some new and recently released music worth the listen. Share your own favorites in the comments below.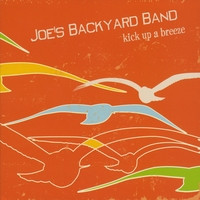 Joe's Backyard Band: Kick Up A Breeze
Joe's Backyard Band is local to Providence so our family is lucky to see them perform live often. Their music is fabulous for all ages and blends blues, folk rock reggae to create music everyone wants to dance to. The band features a festive mix of guitars and drums, harmonicas and saxophones, flutes and mandolins. Kick Up A Breeze is their first CD and has been the must-listen-to CD in our car on the way to school for weeks now. My boys favorite's include: "Crow", "Pitching a Party", and "Cities with Seagulls."
Band website: www.joesbackyardband.com
Listen to CD: www.cdbaby.com/cd/JoesBackyardBand#
Natalie Merchant: Leave Your Sleep (double album)
Released worldwide on April 13th by Nonesuch Records.
I know and love Natalie Merchant from her days with The 10,000 Maniacs. She has not released an album since before the birth of her child. Her new album has set to music the poems of writers representing different nationalities and time periods. In a recent interview NPR says "In keeping with this diverse array of lyrical source material, the music on Leave Your Sleep spans genres from around the globe, including jazz, bluegrass, reggae, chamber music and Balkan, Chinese and Celtic folk…Merchant collaborated with more than 100 musicians, including Medeski, Martin & Wood and The Chinese Music Ensemble of New York." I am looking forward to whole CD myself.
Band website: www.nataliemerchant.com/
Listen to CD:Â  http://www.nataliemerchant.com/l/leave-your-sleep
Rani Arbo & daisy mayhem: Ranky Tanky
What does Rani Arbo sound like? In their words, "Start with a fiddle, a guitar, and a standup bass. Add a cardboard box with a suitcase bass drum and tin can cymbals, played by an ex-rock and zydeco drummer. Over that fine groove, hang Rani Arbo's expressive alto, seamless four-part harmonies, and a splash of banjo and ukulele, and you have it." I agree,
Their first family CD, Ranky Tanky is loads of fun.
Band website: www.raniarbo.com/
Listen to CD: www.raniarbo.com/rankytanky/
Key Wilde amd Mr. Clark: Rise and Shine
Key Wilde and Mr Clarke, a musical duo that's been compared variously to Monty Python and Johnny Cash, released their new book and CD set, Rise and Shine with Little Monster Records in January. They share an enthusiasm for Punk, Bluegrass, Old Time String Bands, Mills Brothers, obscure folk tunes, Hank Williams Beatles, and Dylan. Key Wilde and Mr Clarke bring an offbeat sensibility and fanciful hand-drawn illustrations to their colorful new Rise and Shine board book and CD.
Band website: http://www.littlemonsterrecords.com/bigview-kwmc.html
Listen to CD: http://www.littlemonsterrecords.com/
Uncle Rock: The Big Picture
Uncle Rock's new release, The Big Picture shows his thought-provoking lyrical skill and rockabilly influenced music. Uncle Rock enlisted the help of multi-instrumentalist Dean Jones, the man behind the acclaimed family music group Dog on Fleas, to produce it. The Big Picture is a socially conscious salute to Uncle Rocks' musical heroes, offering sonic nods to David Bowie, The Rolling Stones, Cat Stevens, the Ramones, Buddy Holly , Johnny Cash and Billy Idol.
Band website: www.unclerock.com/
Listen to CD: www.cdbaby.com/cd/UncleRock
StarFish: Enter Sandbox
StarFish is a fun group of lifetime musicians from New Jersey who just happen to be dads. Their second family music CD, Enter Sandbox will be out in June. While the rock vibe will entertain even the most jaded parent, the lyrics relate to important things in kids' lives — treehouses, time outs, homework and parents who always say "No."
Band website: www.starfishrocks.com/
Listen to CD: www.cdbaby.com/cd/starfishmusic
Joanie Leeds: I'm a Rock Star
Joanie's soulful voice plus her ability to connect with kids through her songwriting won her a 2008 Parents' Choice Award for her debut children's album, City Kid.
Band website: http://citykidmusic.com
Listen to CD: www.joanieleeds.com/citykid/listen.php
Anisa Raoof is the publisher of Kidoinfo.com. She combines being a mom with her experience as an artist, designer, psych researcher and former co-director of the Providence Craft Show to create the go-to spot for families in Rhode Island and beyond. She loves using social media to connect parents with family-related businesses and services and promoting ways for parents to engage offline with their kids. Anisa believes in the power of working together and loves to find ways to collaborate with others. An online enthusiast, still likes to unplug often by reading books and magazines, drawing, learning to knit, making pop-up books with her two sons and listening to records with her husband.