Around the holidays, I tend to be online a little less, taking a break from my usual post schedule. Whether my holidays are spent at home or away, I like to spend some of my time offline recharging my own batteries–playing with the kids, making things, spending time outdoors, reading and enjoying lots of delicious food with friends and family.
Being away from home (or just away from my computer) often gives me a chance to see my life from a new perspective and the opportunity to reflect on what's important to me and my family.
When I think of home and my everyday routine with my family, I think about the community where we live. Although inundated with sale flyers from big box stores this time of year and the urgent call to shop til you drop this weekend, I am happy to see a growing number of "Buy Local" campaigns. But what does this really mean? In an effort to reduce our carbon footprint and create a more sustainable community, do we buy from the local toy store and not at Target? Shop from local farmers when possible? Makes sense, but the choices do not always seem so obvious.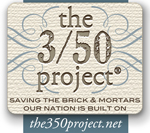 When I think about my community, I also think about all the people and places my family and I connect with everyday beyond our friends and family.

What would we miss if one of them was gone? Some of the things on my list include: nearby parks, neighborhood schools, the Boys and Girls Club, the Rochambeau, Fox Point and Atheneaum library, the #42 bus that runs along Hope Street, Seven Stars coffee, and the many other wonderful shops and restaurants right in my Summit neighborhood. I am also thankful to have RISD and the RISD Museum, Providence Children's Museum, Brown University, and good hospitals within a few miles from my home as well as amazing theater, music, and dance all year long at many venues around Providence. I love Roger Williams Park Zoo, India Point Park, the Audubon Society, and having access to the state library system. I often buy handmade from local artists and I listen to WRNI every chance I get. I know there is more on my list, but you get the idea. I really love being a part of this community.
To me "buying local" means buying into the community in which we live. Supporting all these services and business with our money, our time, and our praise and referrals in whatever amounts we have to spare is essential to keeping our community alive.
My mission for Kidoinfo from the beginning has been to bring together everything for families–from the well-known institutions to the hidden treasures–providing a place where we can all get to know one another a little better and support one another in the community. When we share, we all benefit. As I head into the holidays with Kidoinfo, my focus remains the same.
How are helping your community this holiday season? Please share in the comments below.